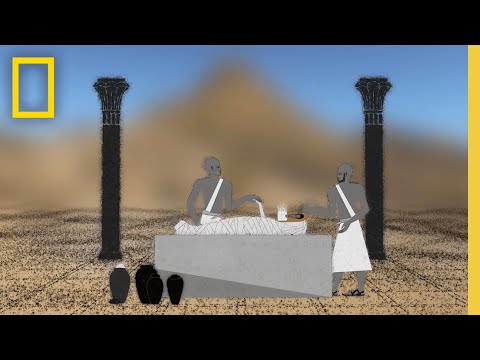 Dr. Basem Gehad and his team discover the remains of a burial portrait in a catacomb in the deserts of Philadelphia, Egypt.
➡ Subscribe:
http://bit.ly/NatGeoSubscribe
➡ Catch all of Season 1 of Lost Treasures of Egypt on Disney+:
https://on.natgeo.com/3i48ynp
➡ Watch more Lost Treasures of Egypt:
https://bit.ly/LostTreasuresofEgypt
About Lost Treasures of Egypt:
An immersive, action-packed and discovery-led series following International teams of Egyptologists as they unearth the world's richest seam of ancient archaeology - Egypt's Valley of the Kings. For a full season of excavations and with unprecedented access to the teams on the front line of archaeology, we follow these modern-day explorers as they battle searing heat and inhospitable terrain to make the discoveries of a lifetime. Using innovative technology and age-old intuition in their quest to uncover the secrets of these ancient sites, can the team's discoveries re-write ancient history?
About National Geographic:
National Geographic is the world's premium destination for science, exploration, and adventure. Through their world-class scientists, photographers, journalists, and filmmakers, Nat Geo gets you closer to the stories that matter and past the edge of what's possible.
Get More National Geographic:
Official Site:
http://bit.ly/NatGeoOfficialSite
Facebook:
http://bit.ly/FBNatGeo
Twitter:
http://bit.ly/NatGeoTwitter
Instagram:
http://bit.ly/NatGeoInsta
TikTok:
http://www.tiktok.com/
@natgeo
Tenor:
http://on.natgeo.com/31b3Koc
Excavating a Burial Painting | Lost Treasures of Egypt
https://youtu.be/FNfgdk2CU4Y
National Geographic
https://www.youtube.com/natgeo
via Travels.Tube - Your travel video feed source!