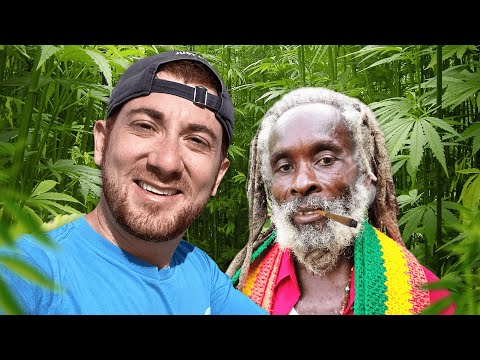 ✅ SUBSCRIBE for more travel videos:
http://bit.ly/2hyQnZ1
📝 Get My Best Flight Hacks FREE!
https://bit.ly/32sVpQV
RASTA VIBES! I've been very interested in the Rastafarian culture since I got hooked on Bob Marley as a teenager. I mean, wasn't everyone obsessed with Bob Marley at some point in their lives? He is a living legend!
It turns out that Bob Marley was one of the first people to bring his Rasta culture to all corners of the world. And believe it or not, Rastafari is not just a culture or a social movement -- it's the world's newest religion that started in the 1930s (as an offshoot of Christianity). Rasta people typically have dreadlocks, listen to reggae music, eat vegan food and smoke a lot of ganja.
I went to Jamaica to learn more about the Rastafarian people, culture, and lifestyle -- and I ended up spending 48 hours with an amazing community in the Blue Mountains. Here is the full story! Share this video with your friends if you enjoyed :)
Follow @Drew Binsky for more stories from EVERY country, and join me on
https://instagram.com/drewbinsky
👕 Thank you for making these travel videos possible by supporting my clothing brand, JUST GO 🌎:
https://shopjustgo.com/
📱 TEXT ME, I will respond! +1 310 349 3854
✈️ BOOK your next trip here:
https://travel.drewbinsky.com/
👫 JOIN over 65,000 people in my FB travel community!
https://bit.ly/3uomRZb
FIND ME ON SOCIAL MEDIA:
► IG:
https://www.instagram.com/drewbinsky/
► FB:
https://www.facebook.com/drewbinsky/
► Tik Tok:
https://www.tiktok.com/
@drewbinsky
👨🏻‍🦰 WHO AM I?
I'm Drew Binsky and I have been to EVERY Country in the world (197/197). I make travel videos about people, culture, and anything else I find interesting on the road. My ultimate goal is to inspire you to travel far and wide, because I think that traveling is the best education that you can get, and our planet is beautiful!
How I find music for my Videos:
- Tom Fox is a legendary musical artist:
https://tfbeats.com/
- Musicbed: Elevate your videos with record-label quality music:
http://share.mscbd.fm/drewbinsky
- Epidemic Sound - incredible royalty free music, free 30 day trial here:
http://share.epidemicsound.com/drew
MOST POPULAR YOUTUBE VIDEOS:
► He Is The Ice Man:
http://y2u.be/VF8dkjEdKNo
► Tallest Humans on Earth:
http://y2u.be/u03kNQNclGY
► Why is Everything Free in Pakistan?:
http://y2u.be/CWeWxl7ruGE
► 3 Things You Can't Do in North Korea:
http://y2u.be/mNsx0Nqryos
► World's Strangest City:
http://y2u.be/hmIa2SGpm6s
🙏 GET IN TOUCH!
► Website:
https://www.drewbinsky.com/
► Email: business@drewbinsky.com
► Text: +1 310 349 3854
via Travels.Tube - Your travel video feed source!