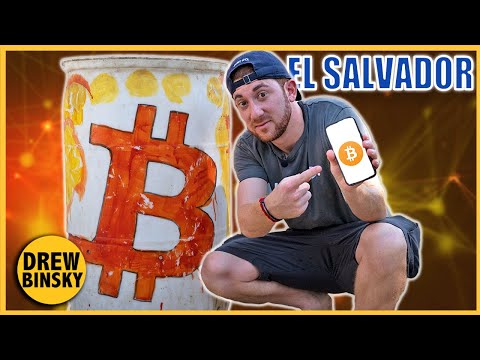 ✅ SUBSCRIBE for more travel videos:
http://bit.ly/2hyQnZ1
📝 Get My Best Flight Hacks FREE!
https://bit.ly/32sVpQV
Have you heard about what's happening in El Salvador? They are the first country (ever) to adopt Bitcoin as an official currency! I just went to El Salvador to see what it's all about, and I challenged myself to survive by ONLY using Bitcoin. Do you think I could successfully do it?
What are your thoughts on cryptocurrency? Are you optimistic that it is the future of how the world will work? Or do you think it's just a fad? Comment below, I'd love to hear from you!
Also, I'm soon announcing the launch date of my NFT collection called Travel Tokens - it's a project that I've been working on for a year now! Stay tuned on my Instagram or on the website:
https://traveltokensnft.com/
By owning a Travel Token, you will get amazing benefits such as getting my travel hacking course for free ($200 value), being inside of my secret travel community and tons more. Keep your eyes peeled for more announcements - very exciting times!
Follow @Drew Binsky for more stories from EVERY country, and join me on
https://instagram.com/drewbinsky
👕 Thank you for making these travel videos possible by supporting my clothing brand, JUST GO 🌎:
https://shopjustgo.com/
📱 TEXT ME, I will respond! +1 310 349 3854
✈️ BOOK your next trip here:
https://travel.drewbinsky.com/
👫 JOIN over 65,000 people in my FB travel community!
https://bit.ly/3uomRZb
FIND ME ON SOCIAL MEDIA:
► IG:
https://www.instagram.com/drewbinsky/
► FB:
https://www.facebook.com/drewbinsky/
► Tik Tok:
https://www.tiktok.com/
@drewbinsky
👨🏻‍🦰 WHO AM I?
I'm Drew Binsky and I have been to EVERY Country in the world (197/197). I make travel videos about people, culture and anything else I find interesting on the road. My ultimate goal is to inspire you to travel far and wide, because I think that traveling is the best education that you can get, and our planet is beautiful!
How I find music for my Videos:
- Tom Fox is a legendary musical artist:
https://tfbeats.com/
- Musicbed: Elevate your videos with record-label quality music:
http://share.mscbd.fm/drewbinsky
- Epidemic Sound - incredible royalty free music, free 30 day trial here:
http://share.epidemicsound.com/drew
MOST POPULAR YOUTUBE VIDEOS:
► He Is The Ice Man:
http://y2u.be/VF8dkjEdKNo
► Tallest Humans on Earth:
http://y2u.be/u03kNQNclGY
► Why is Everything Free in Pakistan?:
http://y2u.be/CWeWxl7ruGE
► 3 Things You Can't Do in North Korea:
http://y2u.be/mNsx0Nqryos
► World's Strangest City:
http://y2u.be/hmIa2SGpm6s
🙏 GET IN TOUCH!
► Website:
https://www.drewbinsky.com/
► Email: business@drewbinsky.com
► Text: +1 310 349 3854
via Travels.Tube - Your travel video feed source!