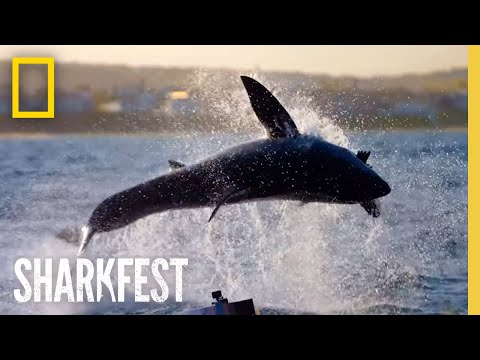 For the first time, shark experts aim to uncover a great white sharks' ability to manipulate their dermal skin cells and activate camouflage. PhD Candidate Gibbs Kuguru and marine biologist Ryan Johnson try to capture photos of breaching sharks next to a color board in the hopes of measuring the color of the sharks' skin.
SharkFest returns July 10 on National Geographic and #DisneyPlus
https://on.natgeo.com/3xYY2Gc
➡ Subscribe:
http://bit.ly/NatGeoSubscribe
#SharkFest #NationalGeographic #CamoSharks
🦈 Watch more SharkFest:
https://www.youtube.com/watch?v=0kulI6-4oLw&
;amp;list=PLivjPDlt6ApQjt4sNnabi7FWVU9-Bh_2t
🦈 Most Watched Shark Moments:
https://www.youtube.com/watch?v=4HGNqFdaD34&
;amp;list=PLivjPDlt6ApRQRMpnoVRnU986EgX2-I_r
About SharkFest:
On National Geographic and Disney+, viewers this year can sink their teeth into almost 30 hours of original programming and over 60 hours of enhanced content featuring captivating science and stunning visuals of the iconic apex predator. SHARKFEST shines a light on the science of the ocean's most misunderstood predator, uncovering their true beauty, power and mystery.
https://on.natgeo.com/sharkfest
About National Geographic:
National Geographic is the world's premium destination for science, exploration, and adventure. Through their world-class scientists, photographers, journalists, and filmmakers, Nat Geo gets you closer to the stories that matter and past the edge of what's possible.
Get More National Geographic:
Official Site:
http://bit.ly/NatGeoOfficialSite
Facebook:
http://bit.ly/FBNatGeo
Twitter:
http://bit.ly/NatGeoTwitter
Instagram:
http://bit.ly/NatGeoInsta
TikTok:
http://www.tiktok.com/
@natgeo
Tenor:
http://on.natgeo.com/31b3Koc
Camo Sharks: Breaching Test | SharkFest | National Geographic
https://youtu.be/rcrkRTaKarQ
National Geographic
https://www.youtube.com/natgeo
via Travels.Tube - Your travel video feed source!