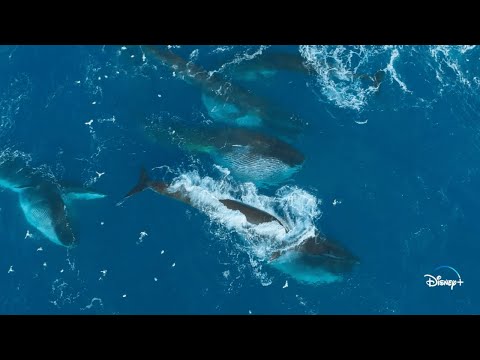 Watch hundreds of fin whales in the largest feeding aggregation EVER filmed as part of the upcoming Disney+ Original series from National Geographic, "Epic Adventures with Bertie Gregory."
The filming of the second largest whales on the planet, some growing up to 90 feet long, took place in the Drake Passage off the tip of the Antarctica Peninsula. To capture the almost mythical wildlife filmmaking event — which doubled the previous record and included 300 whales along with albatross, thousands of sea birds and a huge amount of other marine wildlife — it took Nat Geo Explorer Bertie Gregory and his film crew six weeks aboard a small 75-foot-long, ice-strengthened sailboat. Battling terrible weather conditions and 95 knots of wind, Bertie and the team pushed through to capture the incredible moment.
Epic Adventures with Bertie Gregory, from National Geographic, premieres Sept. 8 only on Disney+
➡ Subscribe:
http://bit.ly/NatGeoSubscribe
#NationalGeographic #EpicAdventures
About National Geographic:
National Geographic is the world's premium destination for science, exploration, and adventure. Through their world-class scientists, photographers, journalists, and filmmakers, Nat Geo gets you closer to the stories that matter and past the edge of what's possible.
Get More National Geographic:
Official Site:
http://bit.ly/NatGeoOfficialSite
Facebook:
http://bit.ly/FBNatGeo
Twitter:
http://bit.ly/NatGeoTwitter
Instagram:
http://bit.ly/NatGeoInsta
TikTok:
http://www.tiktok.com/@natgeo
Tenor:
http://on.natgeo.com/31b3Koc
Epic Adventures with Bertie Gregory | Largest Gathering
https://youtu.be/C9J6_HkN9S8
National Geographic
https://www.youtube.com/natgeo
via Travels.Tube - Your travel video feed source!