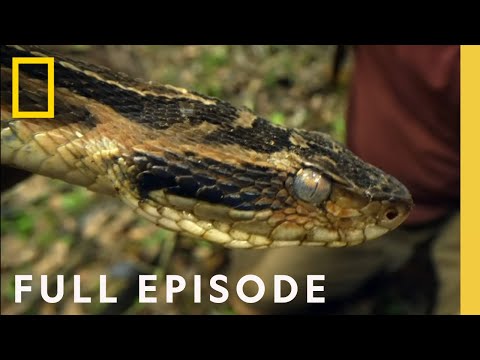 On the 1st leg of his epic journey across S. America, Hazen Audel battles snake-filled swamps and a deadly descent to join a hunt and harvest feast.
➡ Subscribe:
http://bit.ly/NatGeoSubscribe
➡ Get more Nat Geo Full Episodes:
https://youtube.com/playlist?list=PLivjPDlt6ApSiD2mk9Ngp-5dZ9CDDn72O
➡ Get more Nat Geo Wild Full Episodes:
https://youtu.be/qAG2SkTPltw
And check out more National Geographic series and specials here:
➡ Disney Plus:
https://www.disneyplus.com
➡ Hulu:
https://www.hulu.com/welcome
➡ NGTV app:
https://www.nationalgeographic.com/tv/
➡ ABC app:
https://abc.com/
About Primal Survivor:
Survival instructor and wilderness guide Hazen Audel travels to some of the world's most remote tribal communities to learn how they have survived for thousands of years in the planet's toughest environments. Hazen joins tribes in the rainforests of Ecuador, the Kalahari Desert of Namibia, a remote island in the Pacific Ocean, the mountains of western Mongolia, the frozen Arctic of Canada, and in equatorial Kenya to learn firsthand the skills and traditions of these masters of survival.
#NationalGeographic #PrimalSurvivor #FullEpisode
About National Geographic:
National Geographic is the world's premium destination for science, exploration, and adventure. Through their world-class scientists, photographers, journalists, and filmmakers, Nat Geo gets you closer to the stories that matter and past the edge of what's possible.
Get More National Geographic:
Official Site:
http://bit.ly/NatGeoOfficialSite
Facebook:
http://bit.ly/FBNatGeo
Twitter:
http://bit.ly/NatGeoTwitter
Instagram:
http://bit.ly/NatGeoInsta
TikTok:
http://www.tiktok.com/@natgeo
Tenor:
http://on.natgeo.com/31b3Koc
Jagged Jungle (Full Episode) | Primal Survivor: Over the Andes
https://youtu.be/AQs8bt7LQI8
National Geographic
https://www.youtube.com/natgeo
via Travels.Tube - Your travel video feed source!