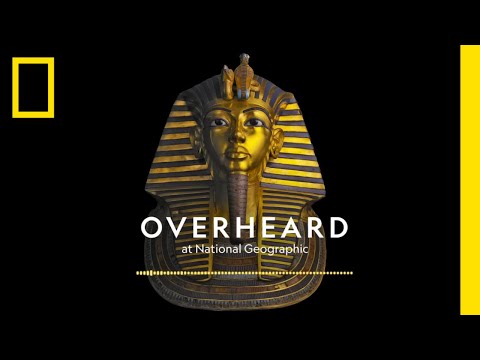 One hundred years since the discovery of King Tutankhamun's tomb, archaeologists are still puzzling over the mysteries of his mummy. Why was he covered in "black goo" and buried without a heart? And how did his tomb remain hidden for so long? To answer these questions, we head to the National Geographic Museum's King Tut exhibit with Archaeologist in Residence Fred Hiebert to hear his take on what happened to Egypt's boy king and hear from mummy expert Salima Ikram about how recent excavations of the tomb are helping scientists get closer to the answers.
Want more?
King Tut's tomb is one of the most significant archaeological sites ever discovered, but it was almost never found. To learn more about the discovery, take a look at our magazine cover story about the discovery.
Want to see National Geographic's King Tut exhibit for yourself? Information and tickets can be found on the museum website:
https://www.nationalgeographic.org/society/visit-our-museum/
Also explore:
Egyptologist Salima Ikram is one of the leading experts in mummification. Check out her website for a treasure trove of information:
https://www.salimaikram.com/
Fred Hiebert once spent two nights in King Tut's tomb with researchers searching for the mummy of Nefertiti. That story can be found here:
https://www.nationalgeographic.com/history/article/160401-king-tut-tomb-radar-scan-nefertiti-archaeology
➡ Subscribe:
http://bit.ly/NatGeoSubscribe
➡ Get more of Overheard at National Geographic here:
https://bit.ly/OverheardPodcast
➡ Catch up on all episodes of Overheard at National Geographic:
https://on.natgeo.com/3n9D3cF
You can also listen to the Overheard at National Geographic podcast on these platforms:
➡ Apple:
https://bit.ly/OverheardOnApple
➡ Spotify:
https://bit.ly/OverheardOnSpotify
➡ Stitcher:
https://bit.ly/OverheardOnStitcher
➡ Google Podcasts:
https://bit.ly/OverheardOnGoogle
➡ iHeart Radio:
https://bit.ly/OverheardOniHeart
➡ Castbox:
https://bit.ly/OverheardOnCastbox
#NationalGeographic #Overheard #Podcast
About Overheard at National Geographic:
Documenting democracy, Untwisting the world's largest tornado. Searching for wrecks of lost slave ships. Dinosaur hunting in Morocco. Accidentally inventing a new color. Come dive into one of the curiously delightful conversations overheard at National Geographic's headquarters, as we follow explorers, photographers, and scientists to the edges of our big, weird, beautiful world. Hosted by Peter Gwin and Amy Briggs.
About National Geographic:
National Geographic is the world's premium destination for science, exploration, and adventure. Through their world-class scientists, photographers, journalists, and filmmakers, Nat Geo gets you closer to the stories that matter and past the edge of what's possible.
Get More National Geographic:
Official Site:
http://bit.ly/NatGeoOfficialSite
Facebook:
http://bit.ly/FBNatGeo
Twitter:
http://bit.ly/NatGeoTwitter
Instagram:
http://bit.ly/NatGeoInsta
TikTok:
http://www.tiktok.com/@natgeo
Tenor:
http://on.natgeo.com/31b3Koc
The Hole Where King Tut's Heart Used to Be | Overheard at National Geographic
https://youtu.be/_LsbszcsoQo
National Geographic
https://www.youtube.com/natgeo
via Travels.Tube - Your travel video feed source!