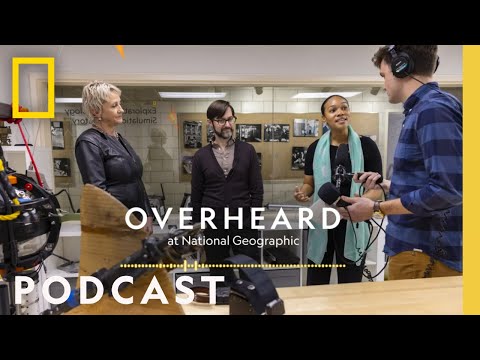 For National Geographic's 135th birthday, meet the people designing ocean-exploring gadgets and handmade art that brings science to life. Cameras that drop miles beneath the ocean surface. Handmade art that reveals the secrets of archeological sites and extinct animals. For 135 years, National Geographic has pioneered new ways of exploring and illuminating our world—and now you can meet a few of the people who make it possible. Join Nathan Lump, National Geographic's editor in chief and Jill Tiefenthaler, CEO of the National Geographic Society, for a tour of the cutting-edge Exploration Technology Lab and a look inside the studio where original, scientifically accurate art comes to life. Then play along with a fun trivia game based on sounds from the National Geographic Soundbank recorded by explorers around the world.
Photo Caption: Denley Delaney (right, wearing blue scarf), senior manager of National Geographic's Exploration Technology Lab, describes tools the lab has developed—including Crittercams and deep-ocean cameras—as part of an audio tour with National Geographic editor in chief Nathan Lump (center), National Geographic Society CEO Jill Tiefenthaler (far left), and Overheard producer Jacob Pinter (far right).
Photo credit: Mark Thiessen
➡ Subscribe:
http://bit.ly/NatGeoSubscribe
➡ Get more of Overheard at National Geographic here:
https://bit.ly/OverheardPodcast
➡ Catch up on all episodes of Overheard at National Geographic:
https://on.natgeo.com/3n9D3cF
You can also listen to the Overheard at National Geographic podcast on these platforms:
➡ Apple:
https://bit.ly/OverheardOnApple
➡ Spotify:
https://bit.ly/OverheardOnSpotify
➡ Stitcher:
https://bit.ly/OverheardOnStitcher
➡ Google Podcasts:
https://bit.ly/OverheardOnGoogle
➡ iHeart Radio:
https://bit.ly/OverheardOniHeart
➡ Castbox:
https://bit.ly/OverheardOnCastbox
#NationalGeographic #Overheard #Podcast
About Overheard at National Geographic:
Documenting democracy, Untwisting the world's largest tornado. Searching for wrecks of lost slave ships. Dinosaur hunting in Morocco. Accidentally inventing a new color. Come dive into one of the curiously delightful conversations overheard at National Geographic's headquarters, as we follow explorers, photographers, and scientists to the edges of our big, weird, beautiful world. Hosted by Peter Gwin and Amy Briggs.
About National Geographic:
National Geographic is the world's premium destination for science, exploration, and adventure. Through their world-class scientists, photographers, journalists, and filmmakers, Nat Geo gets you closer to the stories that matter and past the edge of what's possible.
Get More National Geographic:
Official Site:
http://bit.ly/NatGeoOfficialSite
Facebook:
http://bit.ly/FBNatGeo
Twitter:
http://bit.ly/NatGeoTwitter
Instagram:
http://bit.ly/NatGeoInsta
TikTok:
http://www.tiktok.com/@natgeo
Tenor:
http://on.natgeo.com/31b3Koc
The People and Tech That Power Nat Geo | Podcast | Overheard at National Geographic
https://youtu.be/LgbncttInBc
National Geographic
https://www.youtube.com/natgeo
via Travels.Tube - Your travel video feed source!