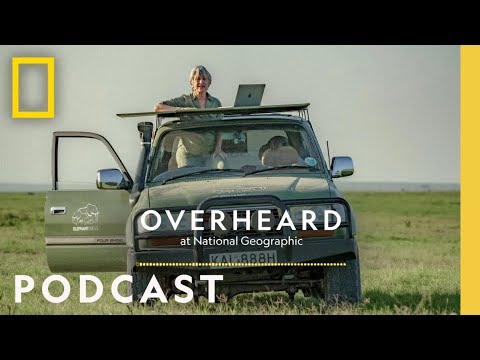 Get to know the sounds of elephants—and what they're saying. For almost 50 years, National Geographic Explorer Joyce Poole has been carefully watching the elephants of Kenya's Amboseli National Park. Over that time she's gotten to know them by name and has started decoding their sounds, smells, and body language to figure out just what the world's largest land animal is talking about.
Photo caption: Elephant expert Joyce Poole poses for a photo. She has studied elephants for almost 5 decades and along with her husband has created the elephant ethogram, the first comprehensive library of thousands of elephant behaviors. There's nothing like this for any other species on earth. (National Geographic for Disney/Wim Vorster)
➡ Subscribe:
http://bit.ly/NatGeoSubscribe
➡ Get more of Overheard at National Geographic here:
https://bit.ly/OverheardPodcast
➡ Catch up on all episodes of Overheard at National Geographic:
https://on.natgeo.com/3n9D3cF
You can also listen to the Overheard at National Geographic podcast on these platforms:
➡ Apple:
https://bit.ly/OverheardOnApple
➡ Spotify:
https://bit.ly/OverheardOnSpotify
➡ Stitcher:
https://bit.ly/OverheardOnStitcher
➡ Google Podcasts:
https://bit.ly/OverheardOnGoogle
➡ iHeart Radio:
https://bit.ly/OverheardOniHeart
➡ Castbox:
https://bit.ly/OverheardOnCastbox
#NationalGeographic #Overheard #Podcast
About Overheard at National Geographic:
Documenting democracy, Untwisting the world's largest tornado. Searching for wrecks of lost slave ships. Dinosaur hunting in Morocco. Accidentally inventing a new color. Come dive into one of the curiously delightful conversations overheard at National Geographic's headquarters, as we follow explorers, photographers, and scientists to the edges of our big, weird, beautiful world. Hosted by Peter Gwin and Amy Briggs.
About National Geographic:
National Geographic is the world's premium destination for science, exploration, and adventure. Through their world-class scientists, photographers, journalists, and filmmakers, Nat Geo gets you closer to the stories that matter and past the edge of what's possible.
Get More National Geographic:
Official Site:
http://bit.ly/NatGeoOfficialSite
Facebook:
http://bit.ly/FBNatGeo
Twitter:
http://bit.ly/NatGeoTwitter
Instagram:
http://bit.ly/NatGeoInsta
TikTok:
http://www.tiktok.com/@natgeo
Tenor:
http://on.natgeo.com/31b3Koc
The Woman Who Knows What Elephants Are Saying | Podcast | Overheard at National Geographic
https://youtu.be/l9wPeJY9TwI
National Geographic
https://www.youtube.com/natgeo
via Travels.Tube - Your travel video feed source!