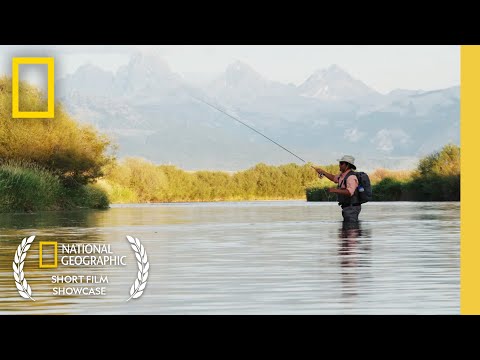 For conservationist and angler Jr Rodriguez to become "like the pictures he saw in magazines," he had to leave behind what he loved most. By juxtaposing Jr's origins in Houston, Texas, and his home in Jackson Hole, Wyoming, we share his journey of learning to love the outdoors and what it can be like to join in outdoor sports and conservation as a person of color in mountain towns in the western United States.
The Short Film Showcase spotlights exceptional short videos created by filmmakers from around the web and selected by National Geographic editors. We look for work that affirms National Geographic's belief in the power of science, exploration, and storytelling to change the world. The filmmakers created the content presented, and the opinions expressed are their own, not those of National Geographic Partners.
Sofía Jaramillo is a Colombian- American National Geographic photographer, an Explorer, and a filmmaker based in Idaho and Wyoming. 
Jaramillo focuses on the intersection of people and the environment, especially with respect to athletes and adventurers who are people of color. Her mission is to tell the stories she wished she'd seen as a kid. Jaramillo got her start in photography with outlets including the New York Times, the Guardian, and the Associated Press. She now works as a director and executive producer for films. She helped film the first adventure ski film to feature women of color and adaptive athletes, The Approach, and she was a producer and cinematographer for OutWest and an executive producer for Soñadora. Follow her on social media @sofia_jaramillo5. 
Jr Rodriguez is a first-generation bilingual bicultural filmmaker, photographer, and activist. 
He explores the relationship between nature and people with projects that empower communities to tell their own stories. Jr has worked as a director, cinematographer, and photographer domestically and internationally for National Geographic and others. He recently directed Soñadora, a film for immigrants, women, people of color, and all who fight to exist in spaces that were not made for them. Follow him on social media @jrrdrgz.
CREDITS
Director: Sofia Jaramillo
Co-Director: Jr Rodriguez
Executive Producer: Faith E. Briggs
Director of Photography: Mason Trinca
Editor: Chris Cresci
Graphic Design: Eliza Carver
Color: Zachary Hetlage
Sound Engineer: Jeff Yellen
➡ Subscribe:
http://bit.ly/NatGeoSubscribe
➡ Get More Short Film Showcase:
http://bit.ly/ShortFilmShowcase
#NationalGeographic #ShortFilmShowcase
About National Geographic:
National Geographic is the world's premium destination for science, exploration, and adventure. Through their world-class scientists, photographers, journalists, and filmmakers, Nat Geo gets you closer to the stories that matter and past the edge of what's possible.
Get More National Geographic:
Official Site:
http://bit.ly/NatGeoOfficialSite
Facebook:
http://bit.ly/FBNatGeo
Twitter:
http://bit.ly/NatGeoTwitter
Instagram:
http://bit.ly/NatGeoInsta
TikTok:
http://www.tiktok.com/@natgeo
Tenor:
http://on.natgeo.com/31b3Koc
Wading for Change | Short Film Showcase | National Geographic
https://youtu.be/jS35UjPExLs
National Geographic
https://www.youtube.com/natgeo
via Travels.Tube - Your travel video feed source!