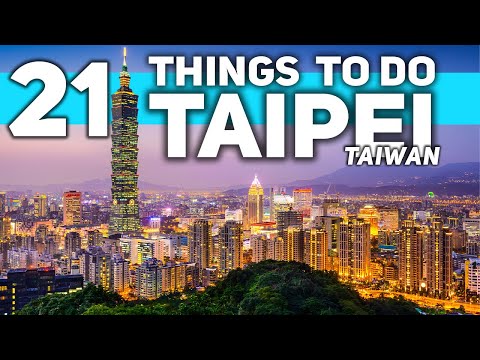 TAIPEI, TAIWAN: Are you looking for the best things to do in Taipei, Taiwan? We just created a list of 21 must do activities for you to do while visiting Taipei! In this Taipei travel guide we show you around Taipei 101, Night Markets, Temples, National Palace Museum and even take a ride on the MRT. We also show you many Taipei attractions like the National Palace Museum, the old town streets, as well as the lanterns in Shifen, Jiufen, the waterfalls and much more!

Best Things To Do in Taipei Taiwan 2023

0:00 Intro
0:44 Taipei 101
1:10 Chiang Kai-Shek Memorial
1:34 Elephant Mountain
1:51 National Taiwan Museum
2:19 Longshan Temple
3:15 Shifen Lanterns
3:43 Golden Waterfall
4:05 Jiufin
4:31 Local Food
5:46 Raohe St. Night Market
6:13 MRT
6:38 Taiwan High Speed Rail
6:57 Dihua Street
7:30 Ximen
8:09 Red House
8:20 Miramar Ferris Wheel
8:35 National Palace Museum
9:26 Performing Arts Center
9:48 Shilin Market
10:34 Meow Planet
11:19 Nanya Night Market

Island Hopper TV takes you around the world to the premiere travel destinations. Our virtual travel guides from across America to Asia, Europe and Australia have assisted many world travelers in educating themselves on their next destination to travel or even vacation.


Watch at: https://www.youtube.com/watch?v=lXvCTFdSIPwYouTube