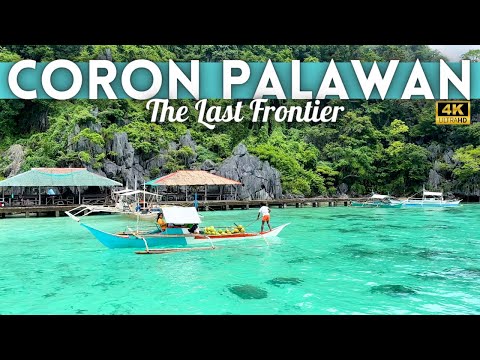 CORON, PHILIPPINES: In this Coron Philippines travel tour we explore the main attractions of this popular tourist destination. We explore around Kayangan Lake, Barracuda Lake and Twin Lagoon then head out to do some swimming around the reefs, ship wreck and Coral Garden. There are many islands in and around Coron. While in Palawan I visited Puerto Princesa, El Nido and Coron.

We arrived from El Nido into Busuanga via prop plane. Island Hopping around the waters seems to be the most popular tourist activity. On several of these islands you will find untouched beautiful beaches. We show you most of the Coron tourist spots as we go around to many of the main attractions on the island of Coron. Enjoy this Coron travel vlog.

Coron Philippines Travel Guide
(Timestamps)
0:00 Intro
0:24 Coron Town Meat Market
1:23 Island Hopping Tour
2:14 Kayangan Lake
4:04 Barracuda Lake
6:10 Floating House Hotel
6:21 Twin Lagoon
8:50 Banul Beach
11:15 Sunset Lagoon
13:37 Skeleton Wreck
14:26 Coral Garden


Island Hopper TV takes you around the world to the premiere travel destinations. Our virtual travel guides from across America to Asia, Europe and Australia have assisted many world travelers in educating themselves on their next destination to travel or even vacation.


Watch at: https://www.youtube.com/watch?v=nGCOmxDWVLwYouTube