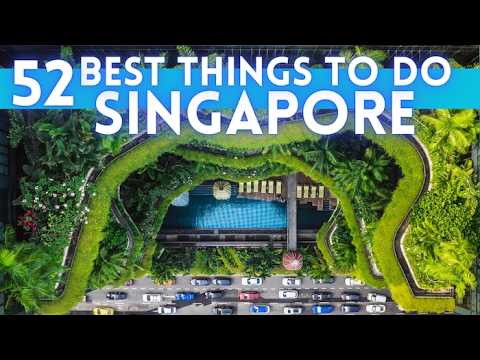 SINGAPORE: In this Singapore travel guide we show you the best things to do in Singapore. These tourist activities include going to Marina Bay Sands, Gardens By The Bay, Singapore Zoo, Bird Paradise, Little India, Chinatown, Holland Village, Boat Quay and much more. We should you some of the nightlife around Kampong Glam and Arab Street, eat local food like Laksa, go to food Hawkers and cruise down Orchard Road. Singapore tourism is back to normal and in this Singapore travel video you will see just how amazingly designed Singapore really is.



If you are looking for things to do in Singapore and want to know the best tourist places and activities you will get that with this Kyoto vlog. We show you 52 things to do in Singapore and help you know more about the cityscape, local food, the shopping districts and more! If you are looking for the best tourist places in Singapore or the top Singapore attractions you will find that in this Singapore vlog.



Also Watch More Singapore Travel Videos:

Things To Know Visiting Singapore: https://youtu.be/IycigHIXsA8



TOP THINGS TO DO IN SINGAPORE:

00:00 INTRO

00:33 MARINA BAY OBSERVATORY

01:06 GARDENS BY THE BAY

01:22 CLOUD FOREST

01:59 BIRD PARK

02:33 LITTLE INDIA

03:09 KAMPONG GLAM(ARAB STREET)

03:38 HOLLAND VILLAGE

04:19 ART SCIENCE MUSEUM

05:00 THE JEWEL AT CHANGI

05:39 PALAU UBIN

06:25 SINGAPORE FERRIS WHEEL

06:52 SUPERTREE GROVE

07:29 SUPERTREE OBSERVATORY

08:10 SKYWALK

08:37 AVATAR

09:04 FLOWER DOME

09:35 MARINA BAY SANDS CANALS

10:19 MARINA BAY SHOPPES

10:45 FOOD HAWKERS

11:10 ORCHARD ROAD

11:49 BUGIS STREET

12:15 MARINA BAY PROMENADE

12:39 RIVERWALK

13:05 ASIAN CIVILIZATIONS MUSEUM

13:44 BOAT QUAY

14:26 CLARKE QUAY

14:44 SLING SHOT

15:28 RIDE MRT

16:02 RIVER BOAT TOUR

16:43 SENTOSA EXPRESS

17:22 UNIVERSAL STUDIOS

18:10 SEA AQUARIUM

18:51 SENTOSA BEACHES

19:28 BUNGY

19:57 ZIPLINE

20:13 CHINATOWN

20:47 BUDDHA TOWN

21:18 JOO CHIAT

21:55 PARANKAN HOUSES

22:14 SINGPORE NATIONAL MUSEUM

22:36 CHJIMES

23:10 SKAI BAR

23:38 SINGAPORE ZOO

24:22 RIVER WONDERS

25:07 BOTANICAL GARDEN

25:34 NATIONAL ORCHID GARDEN

26:14 FORT CANNING PARK

26:51 NATIONAL GALLERY

27:26 EAT LASKSA

28:08 CAPITASPRING SKY GARDEN

28:48 MR STORK ANDAZ HOTEL

29:18 MERLION

29:45 OUTRO



Island Hopper TV takes you around the world to the premiere travel destinations. Our virtual travel guides from across America to Asia, Europe and Australia have assisted many world travelers in educating themselves on their next destination to travel or even vacation.


Watch at: https://www.youtube.com/watch?v=VPzg5_mP8EAYouTube