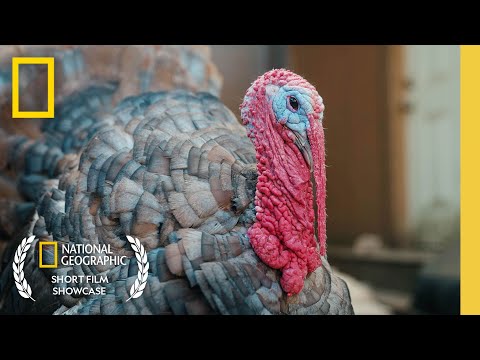 Discover the enchanting world of Fred Astaire, the tap-dancing turkey at Rancho Compasión, an animal sanctuary in California. Rescued from a Thanksgiving fate, Fred's colorful displays and playful antics redefine our understanding of animal emotions. This short documentary invites you into the sanctuary, challenging preconceptions and highlighting the shared bonds between humans and our feathered companions.
Enjoy a free trial of National Geographic right here:
https://ngmdomsubs.nationalgeographic.com/servlet/OrdersGateway?cds_mag_code=NG9&
;amp;cds_page_id=
➡ Subscribe:
http://bit.ly/NatGeoSubscribe
➡ Get More Short Film Showcase:
http://bit.ly/ShortFilmShowcase
And check out more National Geographic series and specials here:
➡ Disney Plus:
https://on.natgeo.com/3q6on5p
➡ Hulu:
https://on.natgeo.com/3Qor0Ko
➡ NGTV app:
https://www.nationalgeographic.com/tv/
➡ ABC app:
https://abc.com/
#NationalGeographic #ShortFilmShowcase
About Short Film Showcase:
The Short Film Showcase spotlights exceptional short videos created by filmmakers from around the web and selected by National Geographic editors. We look for work that affirms National Geographic's belief in the power of science, exploration, and storytelling to change the world. The filmmakers created the content presented, and the opinions expressed are their own, not those of National Geographic Partners.
About National Geographic:
National Geographic is the world's premium destination for science, exploration, and adventure. Through their world-class scientists, photographers, journalists, and filmmakers, Nat Geo gets you closer to the stories that matter and past the edge of what's possible.
Get More National Geographic:
Official Site:
http://bit.ly/NatGeoOfficialSite
Facebook:
http://bit.ly/FBNatGeo
Twitter:
http://bit.ly/NatGeoTwitter
Instagram:
http://bit.ly/NatGeoInsta
Meet Fred the Tap-Dancing Turkey | Short Film Showcase | National Geographic
https://youtu.be/llaadnZJlpw
National Geographic
https://www.youtube.com/natgeo
via Travels.Tube - Your travel video feed source!