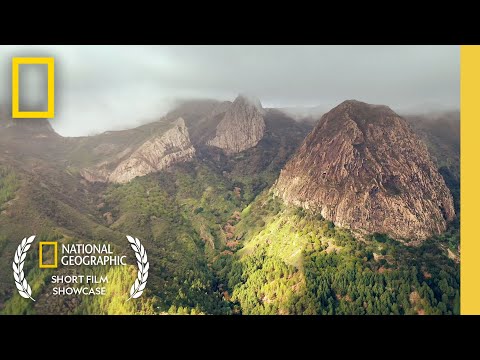 National Geographic Explorer Rüdiger Ortiz-Álvarez is a biologist and filmmaker with a Ph.D. in ecology. Thanks to the field of soundscape ecology, he was able to merge his scientific expertise, musical training, and storytelling ability to create his first documentary, Ecotono, with the overarching goal of connecting people with nature.
Here, the concept serves as a metaphor for humans and nature as separate entities but still thriving together through sound. In La Gomera in the Canary Islands, people use an ancient whistling language known as Silbo to communicate messages through the landscape, blending with the rest of the sounds of the island. In a hyperconnected digital world, this place encourages us to stop and listen, just like our ancestors, and reflect on our place within the ecosystems.
Special thanks go to Marta García-Puig, Luis López Pinto, Ángel B. Fernández, and Eugenio Monesba.
Enjoy a free trial of National Geographic right here:
https://ngmdomsubs.nationalgeographic.com/servlet/OrdersGateway?cds_mag_code=NG9&
;amp;cds_page_id=
➡ Subscribe:
http://bit.ly/NatGeoSubscribe
➡ Get More Short Film Showcase:
http://bit.ly/ShortFilmShowcase
And check out more National Geographic series and specials here:
➡ Disney Plus:
https://on.natgeo.com/3q6on5p
➡ Hulu:
https://on.natgeo.com/3Qor0Ko
➡ NGTV app:
https://www.nationalgeographic.com/tv/
➡ ABC app:
https://abc.com/
#NationalGeographic #ShortFilmShowcase
About Short Film Showcase:
The Short Film Showcase spotlights exceptional short videos created by filmmakers from around the web and selected by National Geographic editors. We look for work that affirms National Geographic's belief in the power of science, exploration, and storytelling to change the world. The filmmakers created the content presented, and the opinions expressed are their own, not those of National Geographic Partners.
About National Geographic:
National Geographic is the world's premium destination for science, exploration, and adventure. Through their world-class scientists, photographers, journalists, and filmmakers, Nat Geo gets you closer to the stories that matter and past the edge of what's possible.
Get More National Geographic:
Official Site:
http://bit.ly/NatGeoOfficialSite
Facebook:
http://bit.ly/FBNatGeo
Twitter:
http://bit.ly/NatGeoTwitter
Instagram:
http://bit.ly/NatGeoInsta
Ecotone | Short Film Showcase | National Geographic
https://youtu.be/kzG7Tu0KRKE
National Geographic
https://www.youtube.com/natgeo
via Travels.Tube - Your travel video feed source!