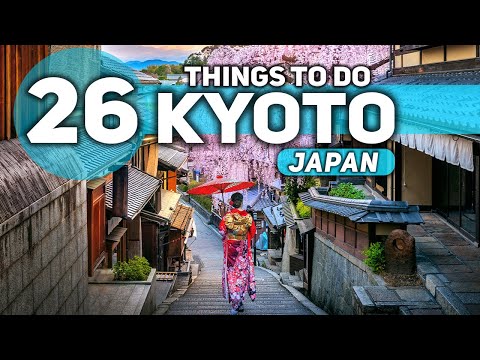 KYOTO, JAPAN: In this Kyoto travel guide we show you the best things to do in Kyoto. These tourist activities include going to Nishiki Market, Kiyamachi-dori for nightlife, Kyoto Tower, Arishiyama, Fushimi Inari Taisha Temple, Kiyomizu-dera, Gion, enjoying Japanese food and the Golden Temple of Kinkaku-ji. Japan tourism is back to normal and in this Kyoto travel video you will see just how amazing Japan's ancient imperial city really is.



If you are looking for things to do in Kyoto and want to know the best tourist places and activities you will get that with this Kyoto vlog. We show you 26 things to do in Kyoto and help you know more about the cityscape, local food, the shopping districts and more! If you are looking for the best tourist places in Kyoto or the top Kyoto attractions you will find that in this Kyoto vlog.



Also Watch More Japan Travel Videos:



Best Things To Do in Tokyo Japan:

https://youtu.be/hgd_YfYE4v8



Best Things To Do in Osaka Japan:

https://youtu.be/yb6yu0UNMSU



Best Things To Do in Kyoto Japan

(Timestamps)

0:00 Kyoto Japan Intro

0:26 Nishiki Market

1:07 Teramachi Street

1:25 Samurai Museum

1:51 Kyoto Tower

2:55 Kiyomizu-dera

4:01 Arashiyama

4:11 Arashiyama Bamboo Forest

4:46 Local Food

5:13 Railway Museum

6:17 Kamo River Walk

6:50 Nightlife

7:14 Kiyamachi-dori

7:43 Kinkaku-ji

8:18 Fushimi Inari Taisha

9:30 Observation Lookout

9:51 Fushimi Inari Food Street

10:44 Gion

11:18 Yasaka

12:03 Nijo Castle

12:45 Tenryu-ji

13:18 Saga Toriimoto Old Town

13:58 Sannenzaka

15:10 Rent Kimono

15:16 Kyoto Imperial Palace

16:14 Japan Haircut

16:51 Aquarium

17:35 Outro



Island Hopper TV takes you around the world to the premiere travel destinations. Our virtual travel guides from across America to Asia, Europe and Australia have assisted many world travelers in educating themselves on their next destination to travel or even vacation.


Watch at: https://www.youtube.com/watch?v=DdLNYhcyUJEYouTube